PushEm Game Music (original versions):
Check out the hot demo version of the game. It can be downloaded directly here:
PushEm Demo Download here!
To find out more about the game please visit the official PushEm site:
http://www.pushem.ukgamers.net/
Game Overview
Push'Em is a fresh and unique twist on the tired sokoban and lines genres.
The goal is to remove all the coloured blocks from each puzzle, you do
this by combining like coloured blocks in groups of three or more.
Sounds simple but its far from that, you will need your thinking cap for this game.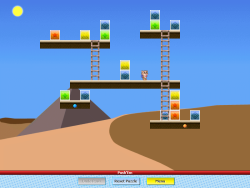 Maxsters trip around the world is made difficult because blocks keep
getting in his way. Through logical thinking and planning you can help
Maxster clear up this mess. Maxster needs to know which blocks to
push and which blocks to teleport, he never went to school and is not
the brightest hampster in the forest.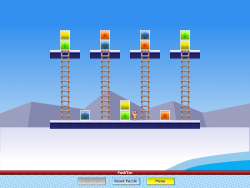 The non-violent, colourful game play and the logical thinking that is
required makes this game perfect for children, and the Seemingly
unsolvable puzzles will keep even the most hardened gamer interested.
Features